Update
Today, Dani had her requested InfoPass appointment to extend her temporary green card for the fourth time. It originally expired three years ago.
She passed her naturalization exam and interview back in January. Unfortunately, she needs a permanent green card (I-751) to become a citizen which we applied for in August 2016. Now we are told that three immigration offices (California, Missouri, and Georgia) all have parts of her I-751 application with no explanation why.
Today, our government official told us the average for the 751 is two years and he has seen it take up to four. "Plus, you have this new stamp so you are allowed to be here for a whole additional year! At least you are not being asked to leave. There is nothing you can do but wait and, no, hiring a lawyer won't help."
Today, is my wife's and my 5 year wedding anniversary. 5 years and one week ago we had decided we had had enough. I had just come out of the hospital due to a blocked esophagus, not being able to eat for 3 days and my unknowing wife-to-be had just been harassed by a US border official coming back into the country from a business trip. Her J-1 Visa was set to expire in 5 weeks and they did not want to let her into the country fearing that she would stay illegally. They told her, "you will come in only if I say you can come in."
We were fed up, stressed out, but we were in love and we did not want to leave each other. I proposed with a ring made from a drinking straw, our friends and family rallied around us and we had a beautiful wedding in the park the next weekend.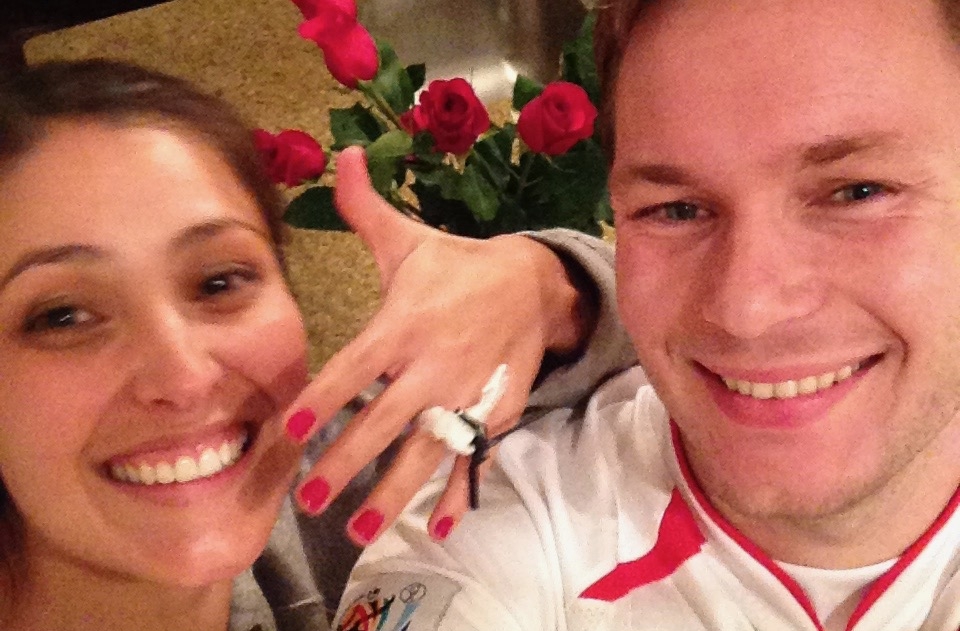 I naively thought I could marry my wife and all of our immigration problems would be over. All we would have to do is fill out a little paperwork and have a quick interview with some US government official. The government would easily see that we were in love and make my wife a citizen that day. Yes, my understanding of marrying someone not from this country was limited to immigration lessons from The Proposal. That movie is way off.
99 pages of applications, thousands of pages of supporting documents, $10,861 in fees and a lawyer, 9 days off work for appointments, 1,824 days later, and counting ... my wife is still not a permanent resident nor a citizen of the United States.
No end in sight
In the Proposal, Sandra Bullock and Ryan Reynolds immediately meet an immigration officer, even before getting married. They had someone to talk to straight away! In real life, we did not get to meet with an immigration officer until eight months after we were married. Until then, the United States Customs and Immigration Service (USCIS) had a simple website that we checked repeatedly hoping for updates to our status. They also gave us a phone number to call but the people on the other end couldn't give us any more information or help than what was available on the website.
My wife and I have our masters degrees from top global universities. I am in technology at a small company while she is in marketing and sales at Delta Air Lines. We have bought a house in Atlanta where our beautiful baby girl had her first birthday in July. I used to think this would help my wife's immigration go more smoothly. Unfortunately, legal immigration became more difficult under Obama and it seems to have stopped under the Trump. My wife and I do not know how much longer, how much more money, or how much more work it will take.
How it really works
There is a "3/3/3 rule of thumb" for alien marriages. Married for 3 years, living in the US for 3 years, and a legal resident for 3 years (which counts from the moment you receive the green card, which took a year). This is a lot easier said than done and my wife and I are the perfect example.
My wife's J-1 visa expired a month after we were married. So we had to apply for a 2 year temporary green card and a 10 year green card to meet the requirement of legally living in the country for 3 years.
My wife had the temporary green card for two years and it expired over two years ago. So she is here in this country today only on "temporary extension" of her conditional residence that she has "temporarily extended" 3 times.
We have two open applications with the United States Customs and Immigration Services. One is a petition to remove her conditions of residence (10 year green card) and the other is an application for naturalization (citizenship).
So much Paperwork
The first time we put together an application, I casually gathered a couple photos and bank statements and filled out the application. My wife looked at me and laughed at the silly white American boy she had married. It was obvious that I had never had to apply for a visa before, nor had I been questioned about whether or not what I said was true, nor that I had enough money to be somewhere. My wife buckled me in for A LOT OF PAPERWORK! Immigration told us they "need to see if we have been continuing to live together. Not just at the beginning and now." This means every bank statement, every phone bill, every mortgage payment, every paystub, every utility bill, photos, emails, letters, notarized affidavits (from us and our friends)….and updated every time this information is requested. We have had to submit this supporting documentation that shows we are really married 5 times so far. This is easily over $100 in printing at Kinkos each time.
Stress
Having no end in sight would not be so bad if there weren't consequences for this process continuing indefinitely. The stress is constant.
"You will come in only if I say you can come in" is easily translated to "you can be here only if I say you can be here." When my wife stays a little long at work and I can't get her on the phone, "Does she have her passport on her? Was she picked up?" Every time she is about to cross the border back in to the US, with us or without us, "Will they let her in?" This leads to overpaying our taxes, not calling the cops when someone backs in to our car and says its our fault, constantly checking if we dotted every "I" and crossed every "t". "Why have they not contacted us yet?"
While going through this immigration process it feels like you are interfacing with a machine. Everything is online and when you call, no one can give you an answer for questions that aren't covered by the 155 pages of instructions that come with the multiple applications. Then you get a surprise in the mail that causes you to drop everything and leap in to action.
While applying for my wife's temporary green card we received a "NOTICE OF INTENT TO DENY" our application and we were given 30 days to fix the problem or she would have to leave the country. Within two days we had fixed the problem from the Peruvian side because we could get someone on the phone who could actually do something. We submitted what we needed to the US Department of State and three nail-biting weeks passed. We could see that the department of state had the completed waiver online and we had a week left together before we were to be ripped apart. All because someone at the Department of State had not sent our documents to the Department of Immigration. But no one we called or wrote could do anything about it. We had nowhere to turn. I turned to Facebook and posted an open plea for help. From out of the blue a friend from high school saw my plea and messaged me that his sister, also my friend from high school, was working in the US embassy in Mexico and she might know how to help. A couple emails later everything was sorted out and my wife was given a conditional residence.
We have now renewed my wife's conditional residence three times. It's just a stamp in her passport that, at first, no one seemed to have seen before. Now it is quite common because the legal immigration process seems to have stopped. So many more people are in this situation today and more are being added every day. This stamp needs to be renewed before each expiration. If we allow it to expire, my wife will no longer have the right to be in this country and will be here with her husband and daughter illegally. If she is caught here illegally, "she will be deported, I can be sent to jail, and our one year old daughter will …" You think someone will step in and good things will happen, but that is not what we are hearing.
To renew the stamp, you need to get an appointment within 30 days of your expiration date. USCIS has a great website where you can make an appointment online. Unfortunately, due to extremely high demand, these appointments are always fully booked for all 30 days in advance. In order to get an appointment you have to be ready when the new appointments are released at midnight and they go FAST! Its kind of like ordering the latest iPhone but those couple minutes determine whether or not you break the law and loose your family.
Our baby girl was due on the 24th of July last year and my wife's temporary stamp expired on the 1st of August. That was the only day she was able to get an appointment with immigration. If she did not make the appointment she would be here illegally. When our daughter missed her due date my wife went to the immigration office a couple days early fearing that she would go in to labor and miss her appointment. The immigration officers could not understand why my 41 week pregnant wife could not make her scheduled appointment and refused to see her. My wife asked to see a manager who a few hours later "squeezed" her into his very busy schedule. She got the stamp and my wife went into labor two days later. Our daughter was born on the 31st. If she did not demand to see a manager, she would have had to leave the hospital a day after giving birth to maintain her legal status in this country with her newborn daughter.
This stamp doesn't just control my wife's right to be in America but it also controls things like her drivers license and work permit too. All of which expire at the same time. So she has to spend a day at the immigration office, then the DMV, then making sure her company gets the updated work permit. All this to avoid unwanted surprises which we learned the hard way.
Surprises like being stopped at a stop light with a police officer behind my wife. He ran her plates while they were stopped and saw that her Georgia drivers license was expired. So he pulled her over and, even though she had an international drivers license, wrote her a ticket for an expired Georgia license. He said that "she could be deported and I could be sent to jail." Luckily we had a good traffic attorney friend who helped us explain away the ticket.
There are other ways we have been surprised too. My wife's work with Delta Air Lines requires her to regularly travel internationally. Every time she crosses a border, airport employees don't know how to treat her temporary conditional resident stamp so they have to call their managers and their manager's managers to allow her on the plane. When she gets back to the US she is always sent for additional questioning even when she is traveling with me and our daughter. At its best, this creates hours of delays, missed flights, missed events, and the unwanted cost of extra nights at hotels. At its worst, it is a border control agent telling my wife, she "is not wanted in this country and that we already have enough Spanish speakers."
My wife has a name, Daniela Malkin. To me she is the definition of grace. She knew from the beginning how much of a struggle this would be and she still took my hand and led the way. Hurdle after hurdle has been put in our path. Some by our doing and some we could never control. She has risen above each obstacle carrying me and now, carrying our daughter too. She has shown grit, strength, perseverance without screaming "FUCK YOU," like I would have done. Her grace has shown me how to roll with all of these punches while making our life look like a beautiful dance. I love her and I am so lucky to have such an amazing partner to dance together through all the future punches that are coming our way.
Non-conclusion
Five years later, my wife is still not a permanent resident nor a citizen of the United States. It is 2 years passed passed when we would "typically" receive her permanent residency. If things go "typically" for her citizenship we would receive an invitation for an interview this month. We still believe that my wife will become an American citizen but we just don't know when because the "typical" rules that applied before, no longer apply.
So far, we have been lucky to have been dealt a strong hand of great support from our families and our friends, not being in the wrong place at the wrong time, good health, strong educations, constant employment, healthy bank accounts, internet, flexible bosses, cars, computers, iPhones, my whiteness, and my nationality. If we were a little less fortunate, this process would have easily ended quickly, causing us to make extremely difficult decisions. Decisions that have long lasting consequences for not just our lives in this country but also our lives with each other and with our daughter.
If only the whitest and the richest can immigrate into the US, our immigration process is broken. Stalling the process, like it is now, will only lead to more stress and more people being here illegally. People like us will ask ourselves "why are we putting up with this stress?" "Why don't we just move somewhere that wants us?".
Timeline
October 19th, 2013 - Married

October 20th, 2013 - I-485 Application to adjust status "Temporary Green Card"

October 20th, 2013 - I-130 Immigrant petition for relative

October 20th, 2013 - I-131 Application for Travel

October 20th, 2013 - I-612 Application to waive foreign residence requirements

October 20th, 2013 - I-765 Application for employment authorization

November 15th, 2013 - J-1 Visa expired

November 19th, 2013 - Biometrics

December 2, 2013 - I-797 Rejection letters

January 16, 2014 - I-765 Granted Work Permit

March 4th, 2014 - I-512 Granted Authorization of Parole

March 4th, 2014 - I-693 Medical examination and vaccination supplement

June 12, 2014 - I-485 Interview

June 21st, 2014 - NOTICE OF INTENT TO DENY - Given 30 days to fix the problem!

June 25th, 2014 - Additional Proof and Support Letter

June 26th, 2014 - Peruvian No Objection Letter

July 17th, 2014 - Recommendation to grant J-1 waiver - 3 days before the deadline!

August 19th, 2014 - I-612 Granted J-1 Waiver

October 11th, 2014 - I-485 Granted Temporary Green Card

August 27, 2016 - Extended 1 year

July 28, 2017 - Extended 1 year - 3 days before our daughter was born!

July 31st, 2017 - Our daughter was born

June 28, 2018 - Extended 1 year

June 3, 2019 - Extended 1 year

July 27th, 2016 - I-751 Petition to Remove Conditions on Residence "Green Card"

August 29, 2016 - Biometrics

October 11th, 2016 - Temporary Green Card Expired

November 20th, 2017 - I-751 Request for more evidence - Given 90 days

January 19th, 2018 - I-751

January 17th, 2019 - Interview - given only because we insisted and we were there for the N-400

STILL WAITING

January 19th, 2018 - N-400 Application for Naturalization "US Citizenship"

February 4th, 2018 - Biometrics

January 17th, 2019 - Interview and Citizenship Test - PASSED and waiting on I-751 to complete the process
Thank you
We have been lucky to have had great support from our families and our friends. There are a few people that went above and beyond when we needed them.
A huge thank you to David Spect and Ingrid Spect for helping us with the J-1 visa waiver.

Steve Andrews gave my wife the initial visa to be able to work and stay in the US. He also helped with our first immigration lawyer.

James Paisley officiated our wedding and helped when my wife had been given a ticket for not having a drivers license.

Helin Tejada, Daniela's Mom, for countless our of WhatsApp calls and visits to help us destress.

Anna Malkin, my mother, for our honeymoon during one of the most stressful Christmas's ever.

Thank you Adam Wilson, Caitlin Worrell, Karol Hatzilias, and Terrell Hatzilias for writing letters of affidavit.